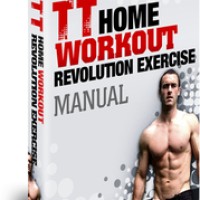 Well, today is the day. Son # 2 (Deakan – but we'll call him Baby D because it sounds cool) is due today, but we'll see.  Champ was two days late, so maybe Deakan will follow suit.
In fact, I was in Tampa for just a day last weekend because you never know, right? Joel Marion invited me to his big SuperBowl party but I had to be back home in case Baby D decided to come early.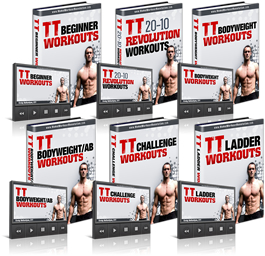 And today, Craig Ballantyne is driving over to Lapeer, Michigan to film more ZERO EQUIPMENT workouts with Brian Kalakay for the Home Workout Revolution. I hate that I'll be missing it.
I helped him write some tough "4-Minute Miracles" as well as "6-Minute 6-Packers" that hit the abs pretty hard… all without any equipment of course. At least they get to suffer through those and I don't.
Both of these are free bonuses that we're adding to the complete Home Revolution Workout program, and all HWR members will get the workouts for free when they are edited.
NOTE – there may or may NOT be a blooper reel coming soon as well that includes my amazing and uncanny impersonation of Forrest Gump. Dude… trust me… it's SPOT ON.
Here's something else that is spot on. Whether you're  traveling or you can't make it to the gym, this is a fast 10-minute conditioning circuit using the 20-10 revolution method based on recent research from a Canadian study.
I won't bore you with the study. Here's the deal – each exercise should be performed for 20 seconds followed by 10 seconds of rest for a certain number of rounds. Then, you proceed to the next exercise.
This is just ONE of the 51 follow-along workouts inside the Home Workout Revolution.
20-10 Conditioning 10-Minute Bodyweight Workout
Run in Place- 20 on/ 10 off, 4 rounds Spiderman Climb Pushup- 20 on/ 10 off, 4 rounds Switch Lunge (alternate sides every 20 sec)- 20 on/ 10 off, 4 rounds Burpee- 20 on/ 10 off, 4 rounds Jumping Jacks- 20 on/ 10 off, 4 rounds
You can use that as a fast workout when you're tight on time or as a great way to incorporate conditioning into your routine by doing this after your strength workout.
And we'll be there every rep of the way with the follow-along videos.
Here's another one…
The Big 12 Bodyweight Circuit
Do the following circuit 3 times, resting for 1 minute between circuits:
Close Stance Bodyweight Squat- 15 reps  Close Grip Pushup- 10 reps Jumping Jacks- 20 reps Reverse Lunge- 10 per side Inchworm- 6 reps Run in Place- 20 seconds Mountain Climber- 10 per side Total Body Extension- 8 reps Calf Jump- 10 reps Reaching Lunge- 8 reps per side Decline or Regular Pushup- 12 reps Run in Place- 20 seconds 
Check out some of the feedback from people who are using this Home Workout Revolution system:
"Four days into the program, my wife and I are sore…but the good kind of sore. We realized that working out at the gym is more sitting down than really working out and doesn't really use all the muscles HWR does. Our core muscles feel great and it reminds me to improve my posture."
"You can tell a lot of work was put into this. The 20-10 workouts are monsters!"
Get 51 Follow-Along Zero Equipment Workouts
And soon, you'll also be getting the follow-along 4-Minute Miracles and the 6-Minute 6-Packers. You'll love the "Climbing Gauntlet" circuits I wrote for that one (great times).
Boom goes the follow-along dynamite (and of course…may you never, EVER get bored of your workouts,
Mikey, CTT
P.S. Here is a pic of me in misery during the TT Mean 15 Conditioning Circuit. It's the same look I have when I'm near the end of my pancake stack.
Tags: bodyweight circuits, bodyweight exercises, home workouts