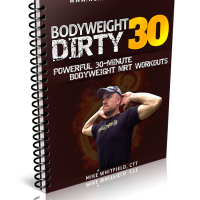 One of the biggest mistakes I see people making in the gym is how they warm up.
You'll see guys and gals doing arm circles and arm crosses before their workout which is fine but does nothing to prevent a shoulder injury which is the most common area people hurt.
The circles and crosses help lubricate the joint but does NOTHING to prime the actual muscles in the shoulder which is what you need to be doing.
Quick Fix:  During your warm up add some resistance to wake up the muscles of the shoulder, rotator cuff and shoulder blade so they are ready to protect and prevent against a fluke blowout.
There are a bunch of exercises you can use but one of my favorites is the elbows back full range of motion bodyweight push-up with your feet  elevated on something. I learned this from my friend Rick Kaselj.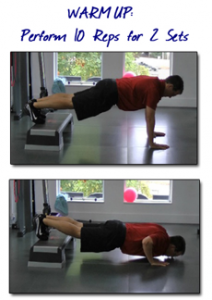 This is just one of dozens of tips, techniques and tricks from the new Fix My Shoulder Pain system.
Totally Fix Any Shoulder Problem for $20  <<< Wow That's Cheap (PLUS, you'll get my Bodyweight Dirty 30 MRT Program)
Whether you're trying to avoid surgery, recover from surgery, get of meds, get some sleep, prevent things from getting worse or just want to end some nagging pain, Fix My Shoulder Pain is for you.
It's only $20 right now which makes it a no-brainer, especially because when you grab it from the link above, I'll send you my latest creation, Bodyweight Dirty 30. You'll get 30-minute metabolic resistance training workouts using ZERO equipment. This is EASILY the best offer of 2012.
"Mikey, are there finishers in your Bodyweight Dirty 30?"… c'mon… seriously? Do you have to ask? Of course there is… including the ab finisher after workout A. It's nasty… without ANY equipment (good times).
By the way – Rick's program is designed for people that train hard, not people that are fine with being limited in what they can do.
Grab this for yourself, a friend or a loved one.
Totally Ridiculously Low Priced Fix My Shoulder Pain Sale << Click Here and Get Your Bodyweight Dirty 30
And don't forget to email us at cranktraininghelp@gmail.com. We'll send you the Bodyweight Dirty 30 when you get Rick's program from the link above and forward your receipt.
May you never, EVER get bored with your workouts… AND thanks to Rick, keep your shoulders safe,
Mikey, CTT